About Us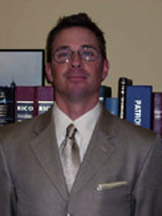 Bryan J. Hackett
Juris Doctorate: May, 2007, Benjamin N. Cardozo School of Law, New York, NY
California Bar Number: 262367
Member of the Criminal Law Section of the California Bar Association
Bio
Mr. Hackett studied under Barry Scheck, and others, in the Criminal Defense Clinic at Benjamin N. Cardozo School of Law. From August 2006 to May 2007 he interned at the Legal Aid Society in New York City, representing clients on a variety of misdemeanor offenses.
After graduation, he worked as an associate in the Law Offices of Gerald Di Chiara in New York City. At that office he worked on criminal cases at both the state and federal level, ranging from housing fraud allegations to securities violations to international drug smuggling conspiracies to murder as a hate crime.
Since his return to California in the Spring of 2008, Mr. Hackett has worked for a criminal defense firm with offices all over the state, representing criminal defendants in a broad spectrum of cases, at all levels of the proceedings. Mr. Hackett is well versed in the California Criminal Law and procedures, and has immense experience defending clients charged with burglaries, robberies, assaults, child abuse, domestic violence, sexual assault, DUI's, drug charges, weapons charges. gang allegations, and a wide range of infractions and misdemeanors.
In what we know can be a troubling and stressful time, we want anyone charged with a criminal offense to have the confidence and serenity that comes with knowing you are being represented by a diligent, vehement defender of the Constitution and each and every one of your rights.